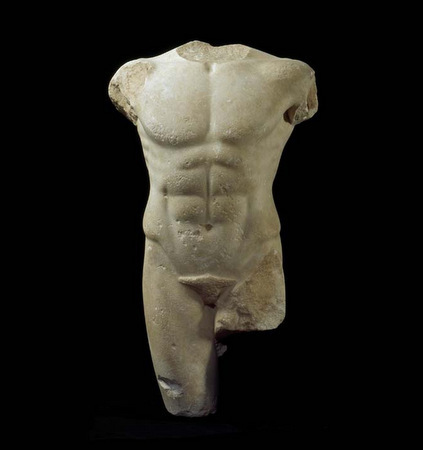 And yet his torso
is still suffused with brilliance from inside,
like a lamp, in which his gaze, now turned to low,
gleams in all its power.

—Rainer Maria Rilke
1
The first things we all notice are the monstrous amputations: there are no arms or hands, no legs or feet, nor any neck or head remaining. From across the room at first, I thought it was an heroic cuirass on display, one of those breast armor pieces of the sort we're used to seeing on Roman generals and emperors in the movies.
rough, dismembering
Time instructs its surgeries
knocks everything off
the walls of the City turned
bare rock stubble in the ground
hobbling on the stump
its one leg, struggling to move
off its pedestal
energy stuffed from the strain
against the stone's inertia
motionless ideas
of action, his potential
drawn in vectors
all abstraction, here to there
remains just an idea
2
Imagine, then, in stone, the fingers of a left hand curled around the cherry-dogwood shaft of a spear, while the right hand holds the rim of the hoplite shield leaning against his right thigh. Alternatively, think of an ancient Corybant, his left external oblique muscle twisting slightly at exactly the moment when his leg poised to step out the driving rhythm of the dance.
whoever the god
figure (what little we have)
was, a common man
posed for the sculptor
he had no lights on within
the human figure
cold chiseled and hammered out
of hard marmaíro
its figurative fire's inside
the rock's calcite glow itself
here we have human
and stone all at once, the man
(or god) emerges
from the marble, the marble
goes on waiting underneath
3
The Miletus Torso represents the human figure deconstructed, and we can only speculate as to the process by which arms, legs, and head were broken off and lost. By accident, as it were, we are forced to concentrate on the center and imagine the whole lost figure. Michelangelo's Atlas Slave** represents the opposite case in which arms, legs, and head are (at least partially) "missing." But rather than being lost they are blocked forever in an endless process of becoming. The artist has deliberately forced us to create what he has left out. Ironically, then, the same ingenuity is required to understand each of these two works; in the case of the ancient torso we have to visualize something that is missing but has been lost; in the case of the Renaissance slave, we have to visualize what is missing and is yet to be.
unforgiving stones
reluctant to reveal their
secrets. Imagining
these ghosts within the marble
flapping their cold empty sleeves
everything in germ
or vanishing from decay
it is the cycle
of yes and no, of here and gone
the pitch and plunge of the world
how just a hammer
and a chisel can carve off
in stone the moment's
remembrance of what once was
or its exhilaration