In the photograph her hand rests on the wheel.
He'd know its make and model, the car it graced,
like he knows his car—his Porsche Targa,
the one he caresses, protects from sun and rain.
Two weeks ago when he discovered the scratch—
it was as if the world had ended—and I'm like,
"Really? It's just a car."
"You don't get it," he shook his head.
"When I was a little boy, I built a model of that car,
that exact car, the color and everything."
He doesn't say when I was a boy and my mother was in the hospital dying of breast cancer. My father was with her and my brother and sisters were older and out of the house, but I was still at home, in grade school, and I had this model to build of a Porsche Targa, just like my car now.
He doesn't mention the grass: how tall it was
and how he never wanted anyone to know where he lived.
I was too young to get it. My dad worked all day and then he went to be with my mother. I told myself someday I would get a car just like the model I built, but then I became a junkie and homeless and broke my father's heart.
He doesn't say this.
But I see it the way he does, for a moment, long enough to get it.
After Georgia O'Keeffe—Hand and Wheel
(1933) by Alfred Stieglitz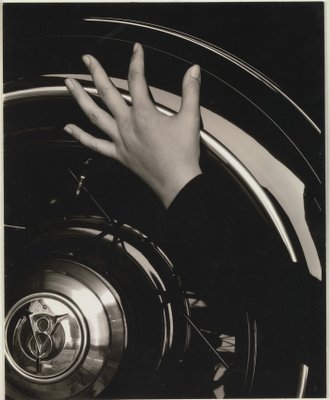 lives in Richmond, California, where she works as a freelance editor and writes poetry and prose. She is also the managing editor of Jung Journal: Culture & Psyche. Her work recently appeared in Eclectica Magazine's anthology of best poetry and has been published in various journals including In Posse Review, Regarding Arts & Letters, and Chantarelle's Notebook. LeeAnn has just completed a long essay about her experience in the 2004 Indian Ocean Tsunami.
⚡ Poems by LeeAnn Pickrell ("The Geranium," "On Nights When I Can't Sleep," and "The Burning") in Chantarelle's Notebook (Issue 13, August 2008)
was an American photographer who was instrumental over his fifty-year career in making photography an accepted art form. He was married to painter Georgia O'Keeffe.
See Wikipedia for a detailed biography, plus reproductions of his art.