our water pipe
beneath this locked slab
inaccessible
the key lost
in a dry reservoir

it's a tombstone now
we had expected
water without end
even a bonsai
needs more than tears

just this drought resistant
spiked-leaf weed
at the grave site
better than a plastic bouquet 
but I miss my azaleas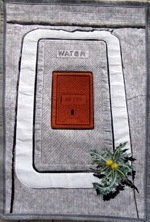 Fiber art Survival and photograph
copyrighted © by Suzanne Starjash.
All rights reserved.
—Third-Prize Winner, KYSO Flash "One Life, One Earth" Writing Challenge
has been writing tanka for twenty-five years, and is the current editor of Ribbons, the triannual journal of the Tanka Society of America. He is particularly interested in combining individual tanka into sequences of tanka verse and in writing responsive tanka verse. He recently published a collection of his tanka verses, The Grandfather Poems (Lulu, 2016). Rice works as a psychologist and lives in Berkeley, California with his wife. Three grandchildren live nearby.
finally has time, after retiring, to be creative and play with concepts that catch her eye. She loves working with cloth and the many techniques that can be applied to achieve special effects. She lives in northen Sonoma County with her husband and their Panamanian rescue dog.