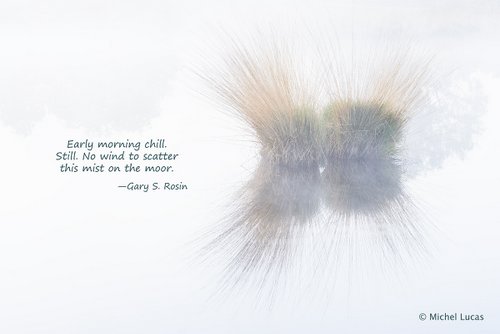 Copyrighted © by
photographer Michel Lucas and poet Gary S. Rosin.
All rights reserved.
Early morning chill.
Still. No wind to scatter
this mist on the moor.
is a biologist and a passionate nature photographer. His focus is mainly on landscapes with a good composition and the best possible light. He loves the outdoors and likes to shoot in remote areas and extreme conditions. He is currently working on a book on the Hautes Fagnes (the High Fens) in Belgium.
You can see more of his work at his website: www.michel-lucas.com
poetry has appeared, or is forthcoming, in various magazines and anthologies, including Concho River Review, Harbinger Asylum, Untameable City: Poems on the Nature of Houston (Mutabilis Press), The Legal Studies Forum, Texas Poetry Calendar, Visions International, and Lifting the Sky: Southwestern Haiku & Haiga. He is the author of two chapbooks, Standing Inside the Web (Bear House Publishing, 1990) and Fire and Shadows (Legal Studies Forum, 2008) (offprint). His work has been nominated for a Pushcart Prize.
Selections of his poetry and photography can be found at his website, 4P Creations: http://4pcreations.com