An astute reader, meaning anyone who so much as clicks on KYSO Flash, will quickly see that this issue (KF-6) is virtually painted with ekphrastic writing, a genre included only three times before in this journal.1 By tradition, each author carefully observed the visual art, imagined a context for its contents, and walked away changed, just like most of us when we avail ourselves of great artwork.
The word ekphrastic itself means "description" in Greek.
"Ekphrasis during the Greek period included descriptions of...battle implements, as well as fine clothing, household items of superior craftsmanship (urns, cups, baskets), and exceptionally splendid buildings."2
Today, the genre usually refers to poems inspired by works of visual art. The Poetry Foundation defines ekphrastic poetry this way:
"...a vivid description of a scene or, more commonly, a work of art. Through the imaginative act of narrating and reflecting on the 'action' of a painting or sculpture, the poet may amplify and expand its meaning."3
KYSO Flash—being more flashy, you might say—expands the term to "ekphrastic writing," allowing room for an ekphrastic elastic of essays, memoir, and, of course, flash fiction. We agree with the Greeks, the genre could be stretched in the art direction, too, with writing prompted by videos, dance, music, sculpture, and so forth, if not flower arranging, beadwork, and cake decorating, but then, why not?
Ekphrastic writing, in general, is a perfect fit for a trans-disciplinary, online journal like ours with its assortment of visual images ranging from cartoons to fine arts. The journal can easily accommodate the added space and length of such works and, more important, can reproduce the art's vibrant palette without expensive, eco-ravaging, six-color presses and glossy paper.
At a literary journal, of course, the writing comes first, and must be evocative, fresh, and, well, literate. The primacy of the writing is notably apparent in the work of our featured "ekphrasticator," Charles D. Tarlton, when he writes about Richard Diebenkorn's "blank and unbesmirched" Ocean Park No. 109:
the point of this one
is erasure (nothing's left
of any patterns
but their faint pastel shadows)...
So, even erased art becomes an inspiration, with some compelling and, in Tarlton's case, always informative writing.
We invite you to begin your tour of our latest exhibits with the first of six ekphrastic works by Tarlton: John Constable's Branch Hill Pond, Hampstead Heath.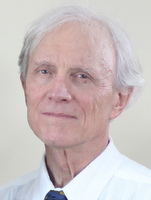 Photo by Daniela Le Roy
first formal collection of poetry, Across My Silence, was published by World Audience, Inc. (New York, NY, 2007). His work has been nominated four times for a Pushcart Prize and chosen as a finalist in North American Review's 2011 James Hearst Poetry Prize and in the 2014 Eco Arts Award in Creative Excellence. His micro-fiction "Options" won first place in the Flash Fiction Chronicles String-of-10-SEVEN Contest in 2015.
Cooper's poetry and/or flash fiction and mini-plays have appeared in Slant, Bryant Literary Review, Connecticut River Review, The South Dakota Review, The Evansville Review, North American Review, The MacGuffin, and many other publications.
His play That Perfect Moment, co-written with Charles Bartlett, was a headliner at the NOHO Arts Center in North Hollywood, California, and The Little Victory in the 2009-10 seasons.