A man got a letter that made him sad
The top part good news, the bottom bad.
He read it over and over again
Laughing at the start, crying at the end.
When he couldn't take it anymore
He took his scissors from the drawer.
He read the part that made him laugh
Then simply cut off the other half.

* Inspired by a Russian mime
—First published in Brevities (No. 28, June 2005); republished in Across My Silence, poems by Jack Cooper (World Audience, Inc., NY 2007); and republished here by author's permission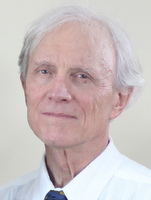 Photo by Daniela Le Roy
first formal collection of poetry, Across My Silence, was published by World Audience, Inc. (New York, NY, 2007). His work has been nominated four times for a Pushcart Prize and chosen as a finalist in North American Review's 2011 James Hearst Poetry Prize and in the 2014 Eco Arts Award in Creative Excellence. His micro-fiction, "Options," won first place in the Flash Fiction Chronicles String-of-10-SEVEN Contest in 2015.
Cooper's poetry and/or flash fiction and mini-plays have appeared in Slant, Bryant Literary Review, Connecticut River Review, The South Dakota Review, The Evansville Review, North American Review, The MacGuffin, and many other publications.
His play That Perfect Moment, co-written with Charles Bartlett, was a headliner at the NOHO Arts Center in North Hollywood, California, and The Little Victory in the 2009-10 seasons.