Queen's Ferry Press
(6 October 2015)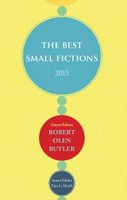 I'll confess: I'm usually not excited by "best of" anthologies.
Too often, annual collections seem to ignore the small but vibrant journals I like to read in favor of the slick, well-funded, big-name publications that publish the same small group of established writers. Is there good work in these anthologies? Of course. But do I feel I'm hearing fresh, startling, diverse voices I've never heard before? Not usually. Too many polite, well-modulated murmurs, not enough barbaric yawps.
Then along comes The Best Small Fictions 2015, edited by Robert Olen Butler and Tara L. Masih, to change my mind about anthologies. These works, ranging from tiny, poetic flash to short-short stories, encompass a range of styles and genres, from the gritty realism of James Claffey's "The Third Time My Father Tried to Kill Me" to the vivid, hallucinatory prose of Stefanie Freele's "Scarlet Fever" to the dry humor of Dan Moreau's tale of corpses and cubicles, "Dead Gary," and the mournful, magical lyricism of Kelly Cherry's ghost story, "A Dream with the Wind in It."
There are familiar, widely-known writers here—Stuart Dybek, Ron Carlson, Bobbie Ann Mason—who were good to read again, but also writers I was happy to discover for the first time, stories that drew me in with new and urgent voices. Zack Bean's "Bad Boys," with its strong and convincing use of the second-person plural, is a fresh take on the coming-of-age story; "Object," by Naomi Telushkin, plays with tropes of romantic obsession and gender identity; Dee Cohen's "By Heart" moves effortlessly from past to present in its close third-person narrative of a woman still marked by the scars of a traumatic childhood.
Pieces like "A Notice from the Office of Reclamation" (J. Duncan Wiley) and "Pistols at Twenty Paces: On the Last Recorded Duel in Hancock County, Mississippi, April 23, 1866" (Michael Garriga) and two linked stories by Michael Martone, based on the life of aviation pioneer Art Smith, are successful experiments in form, adopting the "official" language of a government agency and juxtaposing fictional elements with historical characters and incidents.
There are whispers—James Keegan's haunting "Last Exit Before Toll" and Jonathan Humphrey's haibun, "How to Disassemble Your Father's Ghost (Winter)"—and there are gut-punches, among them Claire Joanne Huxham's "Correspondence," which feels like a nostalgic evocation of the late 1980s with a dark final twist. And then there are the very brief flashes, striking in their telegraphic power: Stephen Orloske's one-sentence "Twitter fiction" from Nanoism, and Anna Lea Jancewicz's pointed and painful "Marriage" from Matchbook.
No one style dominates this collection, nor are all the stories by American authors. There's the sense that the compilers made a real effort to represent diverse voices, and it shows. Most of the pieces are drawn from literary magazines and journals, both print and online, but anthologies and single-author collections are also represented. The editors discuss their selection process, adding a welcome transparency, and an author profile (Michael Martone) and journal profile (Pleiades) round out the anthology. A list of finalists is also included, noting authors, stories, and place of original publication, making The Best Small Fictions 2015 a welcome resource for writers and readers of flash and short fiction.