She remembers what the car looked like: metallic blue, with dull sparkles in the paint, already fading when the girl knew it. The girl loved the car for all the reasons her mother didn't: its smell of spilled coffee and long-gone French fries, the front seat with heavy striped fabric you could drag a fingernail across and make a satisfying scratching sound, like a DJ with a record. There was a vinyl armrest in the middle that you could flip up, and, if you were small enough, as the girl was, you could lie sideways with your head near the door and your feet touching your mother's thigh, tight in its casing of Wrangler jeans, until she stopped the car and said "I'm warning you, young lady." Then the girl would sit up, and roll her eyes and let a puff of air blow through her lips, and fasten the seatbelt to show that she was safe, except one time she didn't, and the mother leaned over to fasten it for her while the girl reached for a plastic Hamburglar toy that her grandmother returned to her days later, in the hospital, looking the same, only lighter, the Hamburglar's black hat and wicked-witch stripes bleached to charcoal gray, as if someone had put it through a washing machine, as if someone had thought that this toy, out of everything, was what she would want to keep from her life before.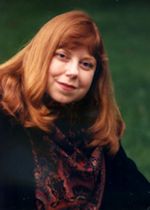 Portrait by C. Curry Briden
Writer, editor, and librarian who leads writing workshops for teens and adults throughout Rhode Island. Her work has been published in Cape Cod Poetry Review, Gravel, Literary Orphans, NANO Fiction, and the anthology, Up, Do: Flash Fiction by Women Writers.
⚡ Oklahoma,1944: Howard Hughes Spends the Night in Jail, 964-word flash fiction in Foliate Oak Literary Magazine (October 2014)
⚡ Mine, 812-word flash fiction in Stone's Throw Magazine (Issue 2)
⚡ Dear Heap, 862-word flash fiction in Foundling Review (March 2010)